MASATO YAMAGUCHI SOLO EXHIBITION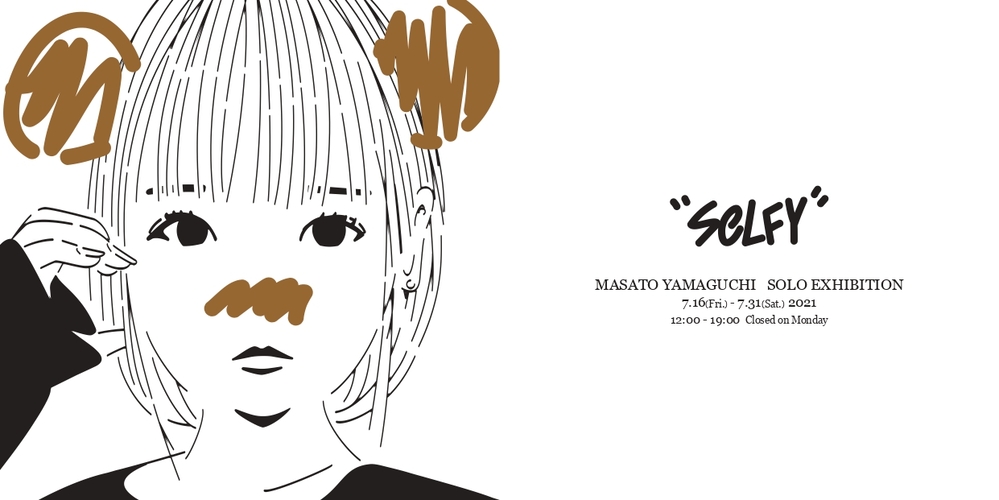 2021年7月16日(金) ‒ 7月31日(土)
12:00 ‒ 19:00 (月曜日 休廊)
山口 真人の "SELFY" 展を開催いたします。
"SELFY"展では、山口真人がインスタグラムやティックトックに映る自撮り(SELFY)のイメージをカットアップし、ステンシル / スプレーの手法で制作した新作を発表致します。
山口は90年代の渋谷系・グラフィティのカルチャーに影響を受けサンプリング・リミックスの手法を用い作家活動を開始いたしました。2019年より、スマートフォンに映る人物や風景、静物に着目し、現実と虚像が同居する世界観を描く「トランスリアリティ」のコンセプトを提唱。
本展示ではその中でも特徴的な、山口の女性を描いた"SELFY"のシリーズを同時に展示をするはじめての試みとなります。
皆様のご来場をお待ち申し上げております。
---
July 16 (Fri.) − July 31 (Sta.), 2021
12:00 – 19:00 (Closed on Monday)
We'll have a exhibition "SELFY" by Masato Yamaguchi.
In the "SELFY" exhibition, Masato Yamaguchi will present new works created by cutting up images of selfies on Instagram and Tik-Tok, and using stencil and spray techniques.
Yamaguchi was influenced by the Shibuya style and graffiti culture of the 90s. and started his career as an artist using sampling and remixing techniques.
Since 2019, he has been advocating the concept of "trans-reality," which focuses on people, landscapes, and still lifes reflected in smartphones to depict a world where reality and false images coexist.
This exhibition features the "SELFY" series, which depicts women in Yamaguchi. And this will be the first time for us to exhibit both of them at the same time.
We look forward to seeing you there.
Thank you.